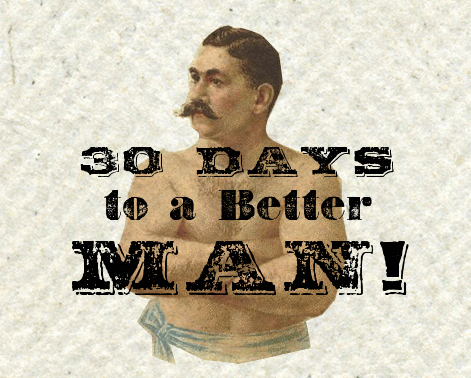 The Art of Manliness ran a series of posts called "30 Days to a Better Man." Each day they created a task for Art of Manliness readers to complete that would help them improve in different facets of their lives such as relationships, fitness and health, career, and personal finances.
They also had a very active Better Man Community Group where participants reported in how they did on the task and gave suggestions and encouragement to other members. Over all, they were very happy with the project and felt that lots of men got something out of it. I hope you will to by reading the following and try to practice it the next 30 days.
Below, there is a summary of the entire month's tasks, with links to each individual day. If you start the challenge late or you're a new reader, this list will help you navigate through each day's tasks.
Day 1: Define Your Core Values
Day 4: Increase Your Testosterone
Day 5: Cultivate Your Gratitude
Day 7: Reconnect with an Old Friend
Day 11: Give Yourself a Testicular Exam
Day 12: Create Your Bucket List
Day 14: Write a Letter to Your Father
Day 19: Schedule a Physical Exam
Day 25: Start a Debt Reduction Plan
Day 26: Take the Marine Corps Fitness Test
Day 30: Get a Straight Razor Shave
Well perhaps everyone of these 30 day´s tasks will not be suitable into your life, but try to all that can.
Love, Health And Wisdom
Brian