We all have a monster inside of us. But what kind of monster is it. Is it the side we are not so proud of? Is it a side that we don´t control like anxiety or maybe anger?
Where is your monster hiding? Do you want it to fuck of?
Your dark side does not understand good intentions, compromise, or doing what it is supposed to do. It stays oppressed, but growing, looking for a way to come out. What many people don't realize is that exploring you dark side will allow you to regain control of yourself, to understand and know yourself.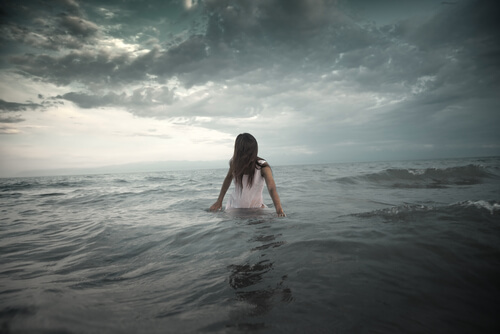 What does your dark side feed on?
The dark side of your mind feeds on misery and self-destruction, on everything that you deny yourself, on all those desires that do not manage to take shape.
Your unsatisfied needs produce negative emotions that feed it. If you do not manage to give those needs an outlet, those negative emotions will keep helping the worst in you grow and they will make you believe that that is the true version of yourself or maybe even the only one.
There are many things that you know you must not do because they are bad for you, and still you do them. You know that you must not smoke, that you must not give in to fatty foods, that you must not yell at your partner or your children, that you must not feed useless arguments that lead nowhere…but you do it anyway.
Good intentions are not enough for your dark side, either. Either you take action and stop feeding it or it will take over the best of you.
What does your dark side need?
In order to stop feeding your dark side, you must know what it is that you like most. This feeds on negative psychological attachments, those feelings that make you cling with all your might to a prior state that causes you anguish.
These negative attachments stop you from feeling safe, well adjusted, and strong. They are expressed through rejection, humiliation, betrayal, and feelings of uselessness and failure.
All of that negativity feeds the darkest part of your psyche, which grows with your negative feelings, thoughts, and behaviors, with the influence of toxic people that you had and still have in your life.
Each time that something negative happens in your life or each time that you remember something that you do not like, your darkest side comes out to shine, which hangs onto that negativity as if it had all rights to it, as if there were no longer an escape, and so, you attract even more misery, self-destruction, and negativity with which to feed it.
How do you confront your dark side?
The solution to facing the dark side of your mind is consciously training it. There are things that cannot be eliminated, but those that you can, should be confronted and you should become familiar with them. The greatest challenge is delving into your mind and illuminating all that is hidden within it.
The dark side hides much more than unfulfilled desires, frustrated aspirations, or broken dreams, but only you yourself can dive into it and explore.
Each time that negativity comes up in your life, each time that you feel like something sinister tries to take over you, this is when you must try to discover why, without feeling shame.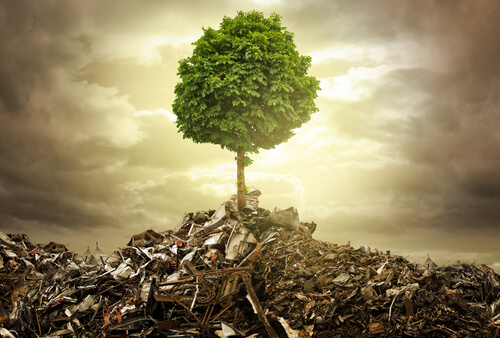 You have to accept that there is a dark side of your mind that is there, and that it is not going to fade away just because you want to repress it. Repression will only make it stronger, and with more strength, it will explode as soon as it has a chance.
Be brave. Be honest with yourself and try to release that negativity.
I'm friends with the monster that's under my bed
Get along with the voices inside of my head
You're trying to save me, stop holding your breath
And you think I'm crazy, yeah, you think I'm crazy
I wanted the fame but not the cover of Newsweek
Oh well, guess beggars can't be choosey
Wanted to receive attention for my music
Wanted to be left alone in public, excuse me
For wantin' my cake, and eat it too, and wantin' it both ways
Fame made me a balloon 'cause my ego inflated
When I blew, see, but it was confusing
'Cause all I wanted to do's be the Bruce Lee of loose leaf
Abused ink, used it as a tool when I blew steam
Ooh! Hit the lottery, ooh-wee!
But with what I gave up to get it was bittersweet
It was like winnin' a used mink
Ironic 'cause I think I'm gettin' so huge I need a shrink
I'm beginnin' to lose sleep: one sheep, two sheep
Going coo-coo and kooky as Kool Keith
But I'm actually weirder than you think, 'cause I'm
I'm friends with the monster that's under my bed
Get along with the voices inside of my head
You're tryin' to save me, stop holdin' your breath
And you think I'm crazy, yeah, you think I'm crazy
Well, that's nothin' (Ooh-ooh-ooh-ooh)
(Ooh-ooh-ooh-ooh, ooh-ooh-ooh-ooh)
Well, that's nothin' (Ooh-ooh-ooh-ooh)
(Ooh-ooh-ooh-ooh, ooh-ooh-ooh-ooh, ooh-ooh-ooh-ooh)
Now, I ain't much of a poet
But I know somebody once told me to seize the moment
And don't squander it
'Cause you never know when it all could be over tomorrow
So I keep conjurin'
Sometimes I wonder where these thoughts spawn from
Yeah, ponderin' will do you wonders
No wonder you're losing your mind, the way it wanders
Yodel-odel-ay-hee-hoo!
I think it went wanderin' off down yonder
And stumbled onto Jeff VanVonderen
'Cause I need an interventionist
To intervene between me and this monster
And save me from myself and all this conflict
'Cause the very thing that I love's killing me
And I can't conquer it
My OCD is conkin' me in the head, keep knockin'
Nobody's home, I'm sleepwalkin'
I'm just relayin' what the voice in my head's sayin'
Don't shoot the messenger, I'm just friends with the
I'm friends with the monster that's under my bed
Get along with the voices inside of my head
You're tryin' to save me, stop holdin' your breath
And you think I'm crazy, yeah, you think I'm crazy
Well, that's nothin' (Ooh-ooh-ooh-ooh)
(Ooh-ooh-ooh-ooh, ooh-ooh-ooh-ooh)
Well, that's nothin' (Ooh-ooh-ooh-ooh)
(Ooh-ooh-ooh-ooh, ooh-ooh-ooh-ooh, ooh-ooh-ooh-ooh)
Call me crazy, but I have this vision
One day that I'll walk amongst you a regular civilian
But until then, drums get killed and
I'm comin' straight at MC's, blood gets spilled and
I'll take it back to the days that I'd get on a Dre track
Give every kid who got played that pumped-up feelin'
And shit to say back to the kids who played him
I ain't here to save the fuckin' children
But if one kid out of a hundred million
Who are going through a struggle feels it
And relates, that's great, it's payback, Russell Wilson
Falling way back in the draft
Turn nothin' into somethin', still can
Make that, straw into gold chump, I will spin
Rumpelstiltskin in a haystack
Maybe I need a straight jacket, face facts
I am nuts for real, but I'm okay with that
It's nothin', I'm still friends with the
I'm friends with the monster that's under my bed
Get along with the voices inside of my head
You're tryin' to save me, stop holdin' your breath
And you think I'm crazy, yeah, you think I'm crazy
I'm friends with the monster that's under my bed
Get along with the voices inside of my head
You're tryin' to save me, stop holdin' your breath
And you think I'm crazy, yeah, you think I'm crazy
Well, that's nothin' (Ooh-ooh-ooh-ooh)
(Ooh-ooh-ooh-ooh, ooh-ooh-ooh-ooh)
Well, that's nothin' (Ooh-ooh-ooh-ooh)
(Ooh-ooh-ooh-ooh, ooh-ooh-ooh-ooh, ooh-ooh-ooh-ooh)
Sangskrivere: Aaron Kleinstub / Jonathan Bellion / Robyn Fenty / Bleta Rexha / Marshall Mathers / Bryan Fryzel / Maki Athanasiou
The Monster sangtekster © Sony/ATV Music Publishing LLC, Universal Music Publishing Group, Reach Music Publishing, BMG Rights Management US, LLC
Love, Health And Wisdom
Brian